<-- Previous Episode -- List of Triple D Episodes -- Next Episode -->
---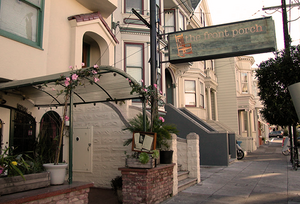 Servin' Up San Francisco is the third episode from the eighteenth season of Diners, Drive-Ins, and Dives.
Original air date: September 9, 2013.
Description
Edit
Episode: DV1803H
"Guy Fieri's cruisin' the San Francisco coast for a diverse culinary road trip. First, Guy swings by the repurposed garage in the Mission District for some southern hospitality served up in braised beef short ribs and spicy shrimp and gravy. Then he's off to the NY-style deli crankin' out old-fashioned chicken noodle with matzo ball soup and potato latkes. And the food extravaganza ends at San Fran's food truck park, where the reinvented Japanese/Korean truck hooks Guy up with a totally unique take on Asian-fusion in the pork belly and short rib kojas."
Restaurants
Edit