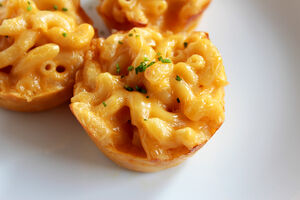 From the episode: From Pound Cake to Pot Pie
"...in Phoenix, the boxing gym-slash-restaurant servin' up mac and cheese muffins and chicken pot pie in glass mugs."
Ingredients
Edit
Panko Mix
Edit
1 1/2 cups panko breadcrumbs
1/4 cup plus 1 tablespoon shredded Parmesan cheese
1/4 cup olive oil
Mac and Cheese
Edit
1 pound small elbow macaroni
1/2 cup (1 stick) unsalted butter
1/4 cup all-purpose flour
1 2/3 cups milk
1 1/2 tablespoons Worcestershire sauce
Salt
4 cups packed shredded Gruyere cheese
1 cup shredded Cheddar cheese
1 cup crumbled goat cheese
Nonstick cooking spray, for spraying muffin pans
Place small amount of panko mix into tins, bake 1 min @350*. Spoon in Mac n cheese, top with more panko mix & bake for 10min.
Directions
Edit
Special equipment: two 24-cup mini-muffin pans
Preheat the oven to 400 degrees F.
For the panko mix:

Mix the panko, Parmesan, olive oil together and set aside.

For the mac and cheese:

Cook the macaroni according to the package directions.
Drain and set aside.

Melt the butter in a heavy-bottomed medium saucepan over medium heat.
Whisk in the flour and cook for 1 minute.
Add the milk and whisk constantly until the mixture thickens.
Reduce the heat to low and add the Worcestershire and salt to taste.
Slowly fold in the Gruyere, Cheddar and goat cheese and heat through until all the cheese is melted, about 10 minutes.
Fold the cooked macaroni into the cheese mixture.
Spray mini-muffin pans with nonstick cooking spray and dust with the panko mix.
Put the muffin pans in the oven and bake until the panko is golden brown, about 2 minutes.
Remove the pans and lower the temperature to 350 degrees F.
Carefully fill the cups the rest of the way with the mac and cheese, packing tightly.
Bake until golden brown, about 10 minutes.
Sprinkle the tops with the panko mix and continue baking until the tops are golden brown, about 5 minutes more.
Let the muffins cool before removing them from the pan.
Repeat with the remaining macaroni and cheese and panko mixture.
Community content is available under
CC-BY-SA
unless otherwise noted.