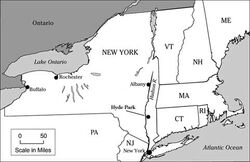 Hyde Park, New York is a town located in the western portion of Dutchess County, New York, United States of America, along the Hudson River and just north of the town of Poughkeepsie, New York.
Hyde Park is best known historically for being the hometown of U.S. President Franklin D. Roosevelt. His grandfather's home there, the Isaac Roosevelt House, is listed on the U.S. National Register of Historic Places, as are the homes of Franklin D. Roosevelt himself, Eleanor Roosevelt, and Frederick William Vanderbilt, along with Franklin D. Roosevelt High School.
Hyde Park is the location of The Culinary Institute of America; a residential college devoted to culinary and pastry arts.
Restaurants
Edit