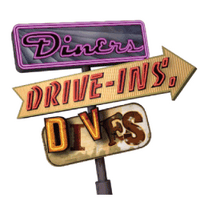 Fish, Fries and Feet is the first episode from the twenty-second season of Diners, Drive-Ins, and Dives.
Original air date: January 16, 2015
Description
Edit
Episode: (DV2201H)
"This trip, Guy's tackling everything from land to sea. In Des Moines, Iowa, the funky fusion joint serving up unique burritos alongside off-the-chain bulgogi masa fries. Across town, in the Beaverdale area of Des Moines, the Southern spot cooking up all the classics, from ribs and red beans and rice to catfish cakes and collards. And in Atlantic City, the husband-wife duo dishing out soul food standouts like turkey chops and pig feet."
Restaurants
Edit
External Links
Edit