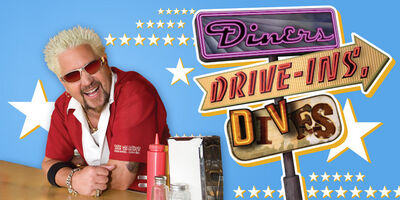 Diners, Drive-Ins and Dives, known among fans a Triple D, is a food-oriented American reality television series which premiered on April 23, 2007 on Food Network hosted by Guy Fieri.
The show features a "road trip" concept. Fieri travels around North America looking at various diners, drive-in restaurants, and dive bars.
The show originally began as a one-off special that aired on November 6, 2006.
About the Show
Edit
Each episode generally has a unifying theme (such as burgers or comfort food) with the host visiting multiple restaurants to sample the food that corresponds to this theme. The program focuses on small independent eateries featuring traditional American-style, sometimes Canadian, cuisine (such as barbecue, smoked meat, hamburgers, deep fried food, pizza, steak, or bacon-and-egg breakfast), regional styles, or ethnic specialties. Most often, the restaurants that the show chooses use fresh ingredients, home-style recipes, and gourmet culinary approaches to what is usually considered non-gourmet food. The host interacts with both the customers, to get their opinion on the food, and with the kitchen staff, who demonstrate how to prepare one or more of the dishes.
External Links
Edit
Community content is available under
CC-BY-SA
unless otherwise noted.